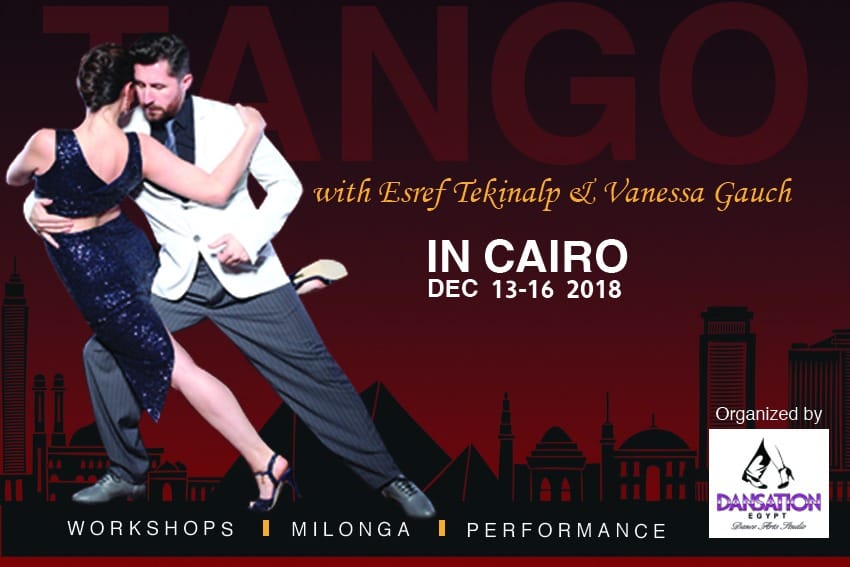 In keeping with our tradition throughout the last ten years, Dansation Egypt has successfully invited two RISING STARS from Turkey, for the first time in Egypt:
"Esref Tekinalp & Vanessa Gauch"
Our main goal is to expose our growing Tango community to the most esteemed instructors in the world, in order to further expand, improve and enrich your dance skills. For this year, we are hosting this popular couple who will help you dig deeper into the mysterious world of Tango Argentine. We have arranged for our big family, an extensive Tango Camp that involves:
3 days of intensive workshops for all levels.
A Grand Milonga on the last day ( a special elegant Tango Night )
Tango professional performances by our guest stars.
Esref and Vanessa are two of the most important figures in the Turkish Tango scene.
In a very short period of time, they have become a source of inspiration for many Tango dancers around the world.
Their dance contains the elegance of the traditional Tango as well as the innovative musical understanding of the new era.
As teachers, they are famous for finding ways to help their students improve their technique & discover their own essence.
They are also gifted in creating a comfortable environment and in simplifying all those things that seem complicated.
Esref and Vanessa stand out for creating their own unique way of dancing which is clearly noticed in their performances.
The workshop schedule is:
Thursday 21/2/19:
7:30PM – 9:00 PM
Beg.: Dancing in small spaces. Attitude and connection.
9:30 PM – 11:00 PM
Int. / Adv.: Art of the free leg in Tango Salon.
Friday 22/2/19:
3:00 PM – 4:30 PM
Beg. / Int.: Add meaning to your dance: Interpret musical phrases.
5:00 PM – 6:30 PM
Ladies Technique:
Pivots – balance and impulse & from pivot to Boleo.
7:30 PM – 9:00 PM
Int. / Adv.: Building and understanding Enrosques and Lapiz.
Saturday 23/2/19:
3:00 PM – 4:30 PM
General: Search of creative Sacadas for better improvisation.
5:30 PM – 7:00 PM
Int. / Adv.: Milonga Traspie combinations.
7:30 PM – 9:00 PM
Ladies Technique: Circularity in movements.
Prices are:
1 class, 1hr 30 min.
Early bird: 600 LE
Regular rate: 680 LE
3 classes, 4hr 30 min.
Early bird: 1600 LE
Regular rate: 1800 LE
4 classes, 6 hrs
Early bird: 1980 LE
Regular rate: 2180 LE
6 classes, 9 hrs
Early bird: 2700 LE
Regular rate: 2970 LE
8 classes, 12 hrs
Early bird: 3600 LE
Regular rate: 3960 LE
The Early bird rate is valid until the 10th of November 2018.
Remember to act quickly, as you remember, last year we ran out of spots in several classes during the early bird period. So hurrrrrry up and book your classes before it's too late!!! 🚨🚨🚨
Refund policy:
* Till Thursday the 22 of November 2018 full refund is guaranteed.
* From Friday the 23rd till Thursday 29th, 50% will be deducted.
* From Friday the 30th no refund can be granted. We are sure you understand the reason behind this is to garantee the attendees' commitment for best organization of the workshops.
To reserve your spot and for any further inquiry, please contact Dansation Front Desk everyday from 12 pm till 10 pm, Friday is a holiday.
01000850153 – 02-33048247